"Plant a Forest in Jordan", December Edition 2021
MENAQUA's planting site location in Al Hisha (Jordan, 2021)
New Reforestation Project in Al-Hisha, Jordan
Menaqua Land Restoration together with the Jordanian Ministry of Agriculture and our new partner EcoMatcher have established a reforestation project in Al-Hisha area of Ma'an Governorate. The main aim of the project is to support recovery of the degraded landscape and forest patches. We have planted 1,200 trees so far and anticipate planting substantially more trees in the next year.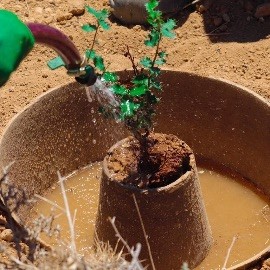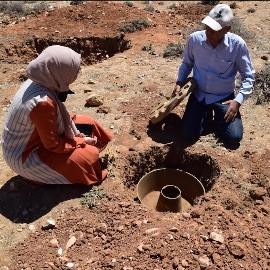 The trees planted are indigenous and thus adapted to and suitable for the terrain and climate in the planting location. To enhance planting success, we used supporting technologies and techniques. The use of cocoon technology in combination with organic compost helped to improve soil water retention and provide better structural support to the saplings. In addition, the cocoon's water container acts as a reservoir, storing water for an extended period and slowly releasing it to the root zone.
The species selected for reforestation are representative of the species in existing forest patches in the region. The map below shows the boundaries of the project area and the trees planted. The species planted are:
1. Pistacia atlantica – pistachio (pink)
2. Quercus infectoria – oak (blue)
3. Cedrus libani – cedar (dark green)
4. Pinus halepensis – pine (light green)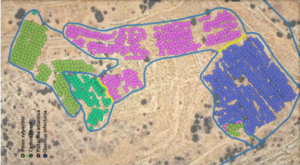 Al-Hisha project takes a participatory approach, involving forestry and agriculture departments and members of the local community, who will undertake long-term care and maintenance of the new forest patch.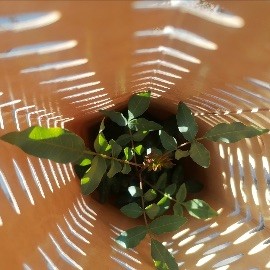 Images of the planted saplings have been captured by EcoMatcher's TreeCorder app. The app helps to increase transparency and engagement in tree planting by registering the details of every tree planted and the person who planted it.
Watch Your Own Forest Grow!
We are delighted to announce that through Menaqua's partnership with EcoMatcher, our small forest in Al-Hisha is now available to adopt.
EcoMatcher, a certified B corporation, plants trees in collaboration with foundations and NGOs around the world and provides a digital platform that enables companies to integrate tree planting into their business. Using the platform's tracking and visualization tools, clients can easily track their adopted trees. If you would like to adopt our forest and watch it grow, please visit www.ecomatcher.com.
"I think it's a once-in-a-lifetime opportunity to create a new forest"
Reinier Hietink, project manager at Menaqua
About Menaqua
Menaqua Land Restoration is a Netherlands-based company that aims to restore degraded ecosystems in the Middle East and North Africa. Our mission is to plant trees through reforestation and agroforestry initiatives that restore degraded lands and improve local livelihoods.
"We Listen. We Learn. We Plant. We Grow".